Mercedes of Castile: A Digital Edition
A Project for the Rare Book School by Stephanie Kingsley
---
---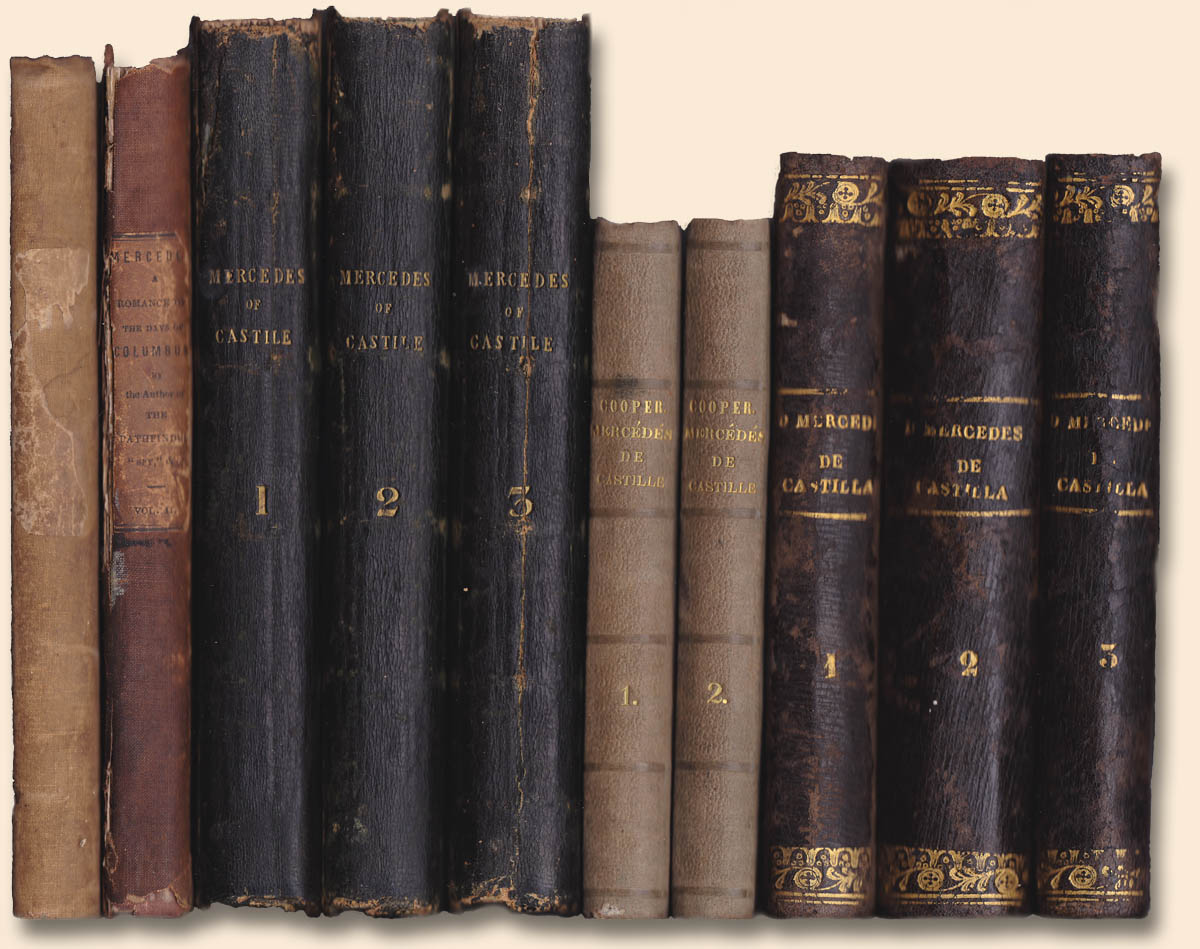 Introduction
The Editorial Project
James Fenimore Cooper is well known as the author of the Leatherstocking Tales, novels which set the character of Natty Bumppo against the backdrop of the American wilderness and various important historical moments in the colonial and founding era. He was also one of the most widely read authors of the early nineteenth century, and through his success helped to promote American literature beyond national borders. Cooper's works have, consequently, received a great deal of editorial attention. Thirty-one out of Cooper's thirty-six titles have been edited according to standards of modern textual criticism for "The Writings of James Fenimore Cooper" or are currently being prepared for inclusion in the series by members of the Cooper Society.
A novel of Cooper's which has not been edited but which is nonetheless a vital member of his corpus is Mercedes of Castile. Published in 1840, Mercedes of Castile is one of Cooper's least-known works. Most students of American literature do not realize that Cooper, along with other notable figures as Washington Irving and William H. Prescott, wrote on the first voyage of Christopher Columbus. The subject was one of great fascination for Cooper, and his treatment of it constitutes a unique approach to historiography which, in addition to other issues such as race and gender relations, makes Mercedes of Castile a work worthy of further study. To enable this study and produce a reliable text which reflects Cooper's final intentions for this important novel, I have chosen to prepare a critical edition of the work.
In Mercedes of Castile, Cooper sets the first voyage of Christopher Columbus within the fictional story of Luis de Bobadilla, a Spanish nobleman, and Mercedes de Valverde, a Castilian heiress—both living in the court of Ferdinand and Isabella. Luis desires to marry Mercedes, but Isabella views his suit unfavorably because he has the reputation of a wanderer, having indulged in too many sea explorations. While the Spanish court is living in the freshly conquered Alhambra, the final stronghold of the Arab Muslim kings, Columbus comes to request the patronage of the Spanish monarchs. Mercedes prompts Luis to accompany Columbus and restore his honor, and it is partly Mercedes's interests which persuade Isabella to sponsor Columbus. Cooper retells Columbus's westward voyage, with Luis acting as the great navigator's confidante. When they reach Cuba, Luis meets the Indian princess Ozema, whom he and Columbus take back to Spain as a "specimen" to show Isabella. In the course of the voyage, Ozema falls in love with Luis, thinking he has plighted his troth to her by presenting a crucifix to her, when he only meant the gift to be a safeguard during a storm. Upon reaching Spain, Ozema discovers Luis is engaged to Mercedes and ultimately dies of illness and disappointment.
The present edition includes only Cooper's Preface and Chapter XXIII. The Preface is of particular interest for Cooper's sometimes whimsical, sometimes curmudgeonly, commentary on history. He declares that his work of romantic historical fiction delves deeper than the "slight and superficial researches" conducted by previous works on Columbus, and he attacks Irving for his apparently inconsistent treatment of nautical time in his The Life and Voyages of Christopher Columbus (1828). The Preface also includes commentary which firmly situates Mercedes in the context of Cooper's Press Wars, in which he sued multiple newspaper editors for libel. It is thus a fascinating glimpse not only into Mercedes, but into a tumultuous moment in the life of its author. Chapter XXIII features Luis exploring Haiti, meeting Ozema, and defending her from a rival chieftain who wishes to kidnap her and make her his bride. The chapter is of interest because it shows, according to Cooper, "the first occasion on which the Spaniards had come to blows with the mild inhabitants of the islands they had discovered." The central feature of the chapter is the extensive description of Ozema, who is depicted as a doppelganger of Mercedes, so nearly does she resemble Luis's Spanish love.
Along with the digital text, I include a History of Mercedes, taken from part of my Master's thesis, which describes the development of the idea of Mercedes of Castile, its publication, its contemporary reception, and its critical importance. The Textual Commentary, also from my thesis, is a discussion of the various stages of revision and corruption which Cooper's text has undergone. Cooper's handwriting was especially prone to misreading during composition, and compositors freely changed his punctuation—to name only a couple ways in which his work was altered against his wishes in the course of publication. By collating, or comparing word for word, the manuscript and the printed editions published during Cooper's lifetime, I traced these changes. Scouring publisher records and Cooper correspondence at the Beinecke Rare Book and Manuscript Library (Yale), the Historical Society of Pennsylvania, and the Albert and Shirley Small Special Collections Library (University of Virginia), I gathered details about Cooper's personal life and publishing practices. Guided by these discoveries, I analyzed each change in the text and determined which reading best represented Cooper's final intentions for Mercedes. Thus, the text of Mercedes of Castile which Cooper wished his readers to experience is presented for the first time ever in my critical edition.
The Digital Edition
Mercedes of Castile: a Digital Edition is a project submitted to the Rare Book School for the RBS-UVA Fellowship. This project runs parallel to my Master's thesis, Mercedes of Castile: a Critical Edition. For my thesis, I presented my own edition text as a clear text, then listed the textual variants in a historical collation at the back of the text. Being interested in the application of digital technology to textual editing, however, I wanted to create a digital edition, as well, to see how such a presentation could impact a reader's experience of the text.
I conducted my collations using Juxta Commons. I then used Juxta to output TEI files which employed Parallel Segmentation markup to encode the variants within the text itself. This file provided me a place to begin my own markup. Using the knowledge I gained from my Rare Book School course "XML in Action" with David Seaman last summer, I edited the TEI file extensively, thoroughly revising Juxta's own markup, and adding manuscript details, such as additions and deletions. I also added types to the variants, such as "revision," "compositor error," "publisher," "capitalization," "punctuation," etc. My final XML file ultimately contained a wealth of bibliographical and editorial analysis. I then called on Wayne Graham, Eric Rochester, and Jeremy Boggs in the Scholars' Lab for schooling in XSLT, CSS, and JavaScript so that I could output my XML as HTML, control the aesthetic of the edition, and make it interactive.
My goal for this edition was to have a way for users to read the text while having the apparatus at their fingertips: readers can click on a variant they are interested in, and a popover window will display a list of the readings of all the witnesses. In addition to providing my own critical text, the Kingsley Edition, I also include the texts of the first American edition, first British edition, and first French English-language edition. A floating navigation with tabs to these texts means that at any point while reading, if a user wishes to change from the Kingsley edition to the American, he or she can do so by simply clicking the appropriate tab. The text will change instantly without the page needing to refresh.
In addition to providing an easy way of viewing collation results, my digital edition also provides a vast amount of interpretation which I have generated over the course of working with Mercedes. I include the diplomatic transcription of the manuscript, which was a key source for me in establishing my edition. Having the text of the manuscript easily accessible--and with the diplomatic markup--means that users of my edition can see how Cooper revised his work over time. Another way in which I incorporate my own interpretation into the digital edition is by including the texts of interpolated proof stages, marked with the changes which I believe Cooper to have made in these proof stages. For the evidence I use to establish this, see my Textual Commentary, which provides a full textual history and account of my editorial practices.
In the course of examining the variants, I identified certain patterns in the way compositors and publishing house style impacted Cooper's text. For the information of those interested in the way Cooper's works were affected by publication, I have color coded the different classes of variants which I have identified. These include the revisions Cooper made to his text, colored purple. House styling had a major effect on elements such as spelling and capitalization, colored burnt orange and aqua, respectively. Due to Cooper's tight handwriting, lack of distinction between vowels and capitals, and manner of revision, compositors frequently misread his manuscript while setting: variants which came about due to misreading are colored orange. Other types of variants include author error and publisher changes. A key to the colors is located below the left-hand navigation. Users may turn the color coding on or off on the left-hand navigation.
Unresolved Problems
One problem which I am currently trying to fix is that the styling for additions and deletions do not display in the popover windows with the list of readings. This means that when "wall" is deleted and "hill" added, for instance, the popover displays "wall hill"--without the styling which designates additions versus deletions. I apologize for this; it is the result of a mysterious XSLT problem. Once it is fixed, however, the popover apparatus will be invaluable for displaying clearly where in the process of the text's transmission the addition or deletion took place.